DF40T Series, 0.4mm Pitch, 1.5-4mm Stack Height, 125°C Heat Resistance, FPC to Board Connector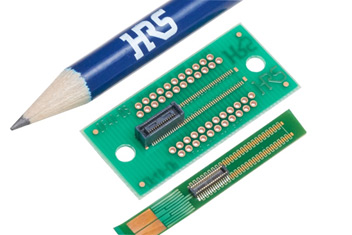 HIROSE Electric Co. Ltd, a world-class manufacturer in connectors, has introduced the DF40T Series, a high-speed transmission, flexible printed circuit (FPC) to board connector. DF40T connectors are ideal for automotive, medical and portable devices.

The DF40T Series supports 16 Gbps high-speed transmission and meets PCI Express 4.0 standards. It is designed with heat resistant materials to withstand severe temperature environments; using gold plating, the DF40T Series can withstand temperature ranges of up to 125°C. With this heat resistance capability the connector satisfies the needs of severe automotive requirements.

The design of the stamped contact contributes to the effective mating length of 0.45mm providing high contact reliability. Furthermore, a clear tactile click can be felt when mating to confirm correct engagement.

DF40T has a minimized depth of only 3.38mm, reducing the required mounting area creating additional board space to optimize the design.

Guide ribs are incorporated into the housing body to allow a wide self-alignment range of ± 0.33 in X and Y direction for design flexibility and to give a smoother mating operation. At each corner of the connector, metal fittings are present to increase the retention force of the connector to the board and protect the contacts from mechanical stress.

The contacts are enclosed in the housing without gaps to protect against solder waste and flux. A nickel barrier area is featured near the contact termination area to prevent solder wicking, in addition a large pick-up area is available for automatic mounting.

DF40T Series is also available with higher mating cycles (3000 times) for electrical checks during production lines [DF40JC series].
Key Features
• Number of contacts: 10, 20, 30, 34, 40, 50, 60
• Contact pitch: 0.4mm
• Current rating: 0.3A
• Stack height: 1.5, 3.5mm
• Operating temperature: -55 to +125°C
• Rated voltage: AC 30V
• Mating cycles: 30
• Halogen-free