DF40C(2.0)-12DS-0.4V(51)
CL0684-4148-6-51
---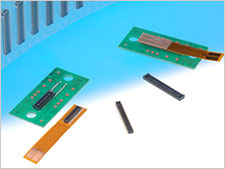 ※ The actual product may differ from the image
Part No.
DF40C(2.0)-12DS-0.4V(51)
Connector Type
Receptacle
Parts
Industry Standard
Safety Standards
---
Detailed Specifications
Last Updated On&nbspJune. 16, 2019
Product information
Part No.
DF40C(2.0)-12DS-0.4V(51)
CL No.
CL0684-4148-6-51
Basic Specifications
Connector Type
Receptacle
Parts
Industry Standard
Safety Standards
Performance Characteristics
USB2.0, USB3.0, MIPI, PCIe
Transmission Rate
5.0 Gbps
Contact Pitch
0.4 mm
Mounting Pitch
0.4 mm
Tab Width (mm)
Mated Height (Min.)
2.0 mm
Mated Height (Max.)
2.0 mm
Mated Height (STEP)
2.0 mm
Number of Positions
12
Remarks on Number of Positions
Floating Design
Mating/Unmating Cycles
30
Mounting Style
SMT
Connector Orientation
Straight
Contact Plating
Gold
Rated Current
0.3 A
Rated Voltage (AC)
AC 30.0 V
Rated Voltage (DC)
DC 30.0 V
Operating Temperature Max.
85 ℃
Operating Temperature Min.
-35 ℃
Mechanical Specifications
Plating Thickness
0.05 μm
Metal Shields
No
Locking Style
Housing Color
Black
PCB Cleaning
No
Positioning Boss
No
Finger Protection
Solder Wicking Prevention
Yes
Electrical Specifications
Withstanding Voltage
100 V Max.
Contact Resistance
90.0 mΩ Max.
Dimensional Information
Connector Length
5.0 mm
Connector Width
3.38 mm
Connector Height
1.95 mm
Recommended PCB Thickness
Packaging Specifications
Packaging Type
Reel
Minimum Order Quantity
4000 PCS
Pick-up Tape
No
Mass
0.039 g
Static Sensitive
Others
In cases where the application will demand a high level of reliability, such as automotive, please contact a company representative for further information.
Connector Orientation , Connector Type
*Please be careful about the connection of dissimilar metal plating types.
Suffix Options
---
| HRS No. | Part No. | Special Specifications (English) | Special Specifications (Japanese) |
| --- | --- | --- | --- |
| CL0684-4148-6-51 | DF40C(2.0)-12DS-0.4V(51) | PS-H1103,TAP-H0368 4000 PIECES PER REEL,AuP0.05 | PS-H1103,TAP-H0368 適用,エンボス梱包(1RL=4000個),AuP0.05 |
| CL0684-4148-6-58 | DF40C(2.0)-12DS-0.4V(58) | PS-H1103,TAP-H0368 (1000 PIECES PER REEL) | PS-H1103,TAP-H0368 テキヨウ (1RL=1000コマキ) |