EM52M Series, High Current, 140A (Max) Waterproof, Industrial Push-On Bayonet Lock Connector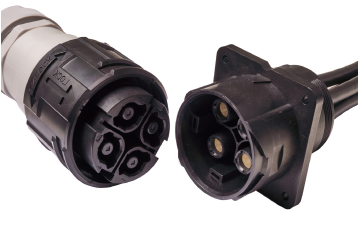 HIROSE Electric Co. Ltd, a world-class manufacturer in connectors, introduced its new robust lightweight circular EM52M Series. The series is ideal to connect wind power generation systems, medical equipment, and factory automation machinery applications. The push-on bayonet lock save users valuable time and reduce the risk of electrical shock with the IP2X rated specification designed for contact touch protection against access to hazardous parts.
With the use of high-quality plastic material, the circular connector EM52M offers resistance to rough handling, for high current applications. In addition, the multi-point contact spring component helps reduce contact resistance and promotes a high current flow.
The connector series offers two options of non-waterproof or waterproof versions, the latter achieved with the IP67 specification, which provides superior levels of dustproof and waterproof protection due to the built-in O-ring capable of withstanding liquid intrusion.
The EM52M series combines a simple push-on mating process with a bayonet un-mating mechanism. The connector is designed to lock simply by pushing the plug until the user hears an audible click, which is marked with triangles, making it easier for the user to visually line up the plug for blind mating. To un-mate the connector, the user simply twists the sleeve of the plug and pulls.
A further benefit is that commercial tools are available to be used for this series. Termination of the crimp contact is quick and easy using standard JIS crimping tools. A contact removal tool is available to swiftly remove the contact from the housing.
In this way, the connector benefits from a bayonet locking system - electromechanical security, vibration resistance and positive sealing - whilst providing the simple operation of a push-on design.
Key Features
Number of contacts: 4 (3 phase + 1 GND)
Shell size: 52mm
Current rating: 140A (max)
Shell construction: Plastic
Voltage rating: AC/DC 1000V (max)

TÜV compliant

Finger protect structure

Waterproof available
To discover more about the EM52M Series click here.