FH65 Series, 0.5mm Pitch, Heat Resistant, Low Profile & Space Saving FPC/FFC Connector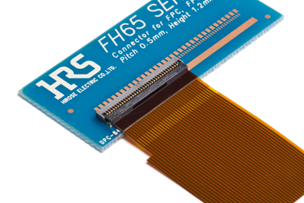 HIROSE Electric Co. Ltd, a world-class manufacturer in connectors, introduced its ultra-low profile, heat resistant, right angle FPC/FFC FH65 Series. The series is ideal for automotive applications, such as millimetre-wave radar, audio display, drive recorder and in-vehicle camera.
The FH65 has the ability and reliability to withstand temperatures up to 125°C, making it capable to satisfy severe automotive requirements.
The FH65 series combines an excellent actuator retention with a high operational reliability. The connector's actuator is firmly retained by solder tabs and terminals, making it extremely difficult to remove under the toughest operations. This FPC/FFC connector has an excellent retention force, though with a tabbed FPC/FFC increases the retention force in a horizontal direction.
The correct placement of the FPC/FFC can be visually inspected through small openings in the top surface of the connector.
Additionally, this user-friendly connector provides a wide and easy FPC/FFC entry point, with side-catches that enable an accurate FPC/FFC guided position. A clear tactile click verifies the lock completion.
Key Features
Number of contacts: 34
Contact Pitch: 0.5mm
Current rating: 0.5A
Rated Voltage: AC/DC50V
RoHs compliant
Halogen-free
Compatible with automatic mounting
To discover more about the FH65 Series click here.