CX Series, Next Generation
USB Type-C Compliant Interface Connector
CX Series, Next Generation USB Type-C Compliant Interface Connector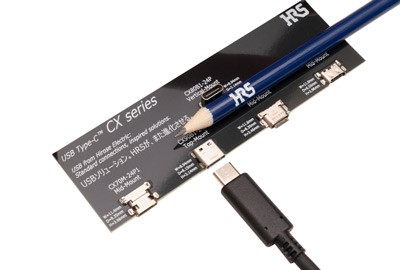 HIROSE, a world-class leader in the design and manufacture of innovative connector solutions, has developed USB Type-C receptacles and plugs as a standard high-speed transmission interface solution for consumer, industrial machinery and automotive applications.

The CX series is a USB 3.1 Gen2 connector and 10Gbps high-speed transmission can be achieved that transfers data twice as fast compared to a conventional 5Gbps USB 3.0 connector.

The receptacle feature a hybrid design and utilizes both surface-mount and through-hole soldering to improve mounting accuracy and minimise the board mounting space needed. The design also facilitates automated optical inspection and eases reworking of the solder terminal joints with a visible lead design.

The slim plug is reversible and can be simply inserted in any direction as the user-friendly receptacle features a symmetrical mating face to prevent incorrect insertion.

A tactile click can be felt when mating the connectors to ensure correct engagement and prevent incomplete mating.

Many variations are available, please see the table below:
Product line-up of CX series
Product
Type
Contact Type
Features
CX60-24S-UNIT
Plug (Unit)
SMT, Double-row
Slim type
CX60-SLDA
Plug
(Plug shell)
-
Slim type
CX70M-24P1
Receptacle
(Mid-mount)
Hybrid
(SMT&DIP 1 row each)
Space saving type,
Depth: 8.35mm
CX70M-24P2
Receptacle
(Mid-mount)
Hybrid
(SMT&DIP 1 row each)
Space saving type,
Depth: 7.95mm
CX90B1-24P
Receptacle
(Top-mount)
SMT, Double-row
10Gps data transfer,
Robust structure type
CX90M-16P
Receptacle
(Mid-mount)
SMT, Double-row
High current capable
up to 6A, USB2.0 data transfer
CX90MWD2-24P
Receptacle
(Mid-mount)
SMT, Double-row
Waterproof (IPX8)
CX80B1-24P
(Developing)
Receptacle
(Vertical)
SMT, Double-row
Low profile type
A wide range of applications are suitable such as control systems, drones, medical devices, smart meters, point-of-sale equipment, imaging equipment and many other small portable devices.
Key Features
Number of contacts: 24
Pitch: 0.4mm SMT / 0.8mm DIP
Current rating: 1.25A (Pin No. A1, A4, A9, A12, B1, B4,B9, B12) 0.25A(Others)
Voltage Rating: AC 20V
Transmission Speed: 10Gbps
Mating cycles: 10000