HR10A-7P-4S(74)
CL0110-0302-5-74
---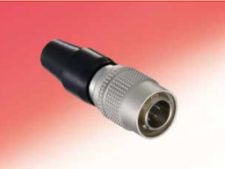 ※ The actual product may differ from the image
Part No.
HR10A-7P-4S(74)
Connector Type
Plug
Parts
Generic Type
Industry Standard
---
Detailed Specifications
Last Updated On&nbspJuly. 29, 2022
Product information
Part No.
HR10A-7P-4S(74)
CL No.
CL0110-0302-5-74
Basic Specifications
Connector Type
Plug
Parts
Generic Type
Industry Standard
Safety Standards
Performance Characteristics
Rated Current
2.0 A
Rated Voltage (AC)
AC 150.0 V
Rated Voltage (DC)
DC 200.0 V
Number of Positions
4
Remarks on Number of Positions
Operating Temperature Max.
85 ℃
Operating Temperature Min.
-25 ℃
Water Resistance
Contact Resistance
Withstanding Voltage
500 V Max.
Locking Style
Push-pull
Wire Termination Method
Soldering
Cable Outer Diameter
5.0 mm
Mating/Unmating Cycles
1000
Finger Protection
No
Metal Shields
No
Mounting Style
Contact Plating
Gold
Salt Spray Test Duration (Corrosion Resistance)
Shell Material
Metal
Finish on Shell
Nickel
RoHS2
Conforming
SVHC
Contained
Mechanical Specifications
Contact Gender
Female
Housing Color
Panel Mounting Style
Connector Orientation
Straight
PCB Stabilizing Feature
Solder Wicking Prevention
Key
No
Cap Material
Dimensional Information
Plating Thickness
Max. Wire Insulation Diameter
Min. Wire Insulation Diameter
Recommended Min. Wire Size (AWG)
26
Recommended Max. Wire Size (AWG)
26
Recommended Min. Wire Size (mm²)
Recommended Max. Wire Size (mm²)
Connector Length
11.5 mm
Connector Width
11.5 mm
Connector Height
35.0 mm
UL Style Wire/Cable
Notes on Recommended Wire
0
Recommended PCB Thickness
Packaging Specifications
Packaging Type
Bag
Purchase Unit
20 PCS
Mass
9.2 g
Static Sensitive
No
Qty/Box
500 PCS
Others
Cable Assembly
No
Cable Length
Cable Color
Remarks
Contact : gold plating.
In cases where the application will demand a high level of reliability, such as automotive, please contact a company representative for further information.
Connector Orientation , Connector Type
*Please be careful about the connection of dissimilar metal plating types.